The Elite LLS-LLX Battery Powered LED Headlight System
Portable, Wireless and Ultimate Brightness!

CUDA Surgical's LED headlight
Produces an unparalleled bright, white light with superior battery life so you can work without interruption. The revolutionary Rear Cranial Support design will create a new wearing experience, which is lightweight, comfortable, flexible and durabl
CUDA Surgical LED Headlight
Prepare to be amazed by the superior light quality and feather weight comfortable feel of this 10W LED lighting system. The battery-operated LED Headlight System provides 80,000 lux of light (measured at a 16 inch/ 40cm standard working distance) to the surgical site and features an audible sound when battery charge is getting low. Alternative headband options available with the Cuda Surgical SPORT band.
CUDA Surgical Battery and Charger
Each battery lasts 3 hours, 15 minutes at full intensity, 6.5 hours at half power (output). The charger will fully charge an empty four cell battery in 3 ½ hours. The ELITE LLX system comes with two standard batteries and one extended life battery for easy replacement when one battery becomes low during procedures.
Specifications:
10w LED Producing Bright, White Light
Color temperature: 4,500°K
Typical LED life: >50,000 hours
Premium Designed Lightweight Headband with Rear Cranial Support for added comfort
Variable Module Spot 20mm-110mm @ 16″(40cm)
Variable Intensity Control: 0 – 80,000 Lux at 16"(40cm) working distance
Headband with LED Module Weight – 12 oz / 340 grams
Battery and Holster Weight – 12 oz / 340 grams
Battery Life – 2 hrs 30 min @ Full Intensity, 5 hrs at Half Intensity
Battery Charger Accepts 100-240V AC, 50/60 Hz input for worldwide operation
Battery Recharge Time – 3.5 hrs
Warranty Three (3) Years on LED Headlight and One (1) Year on Battery
Classification: European Class I, Active device per Annex IX, rule 1
FDA Class I, Device Listing 125713
Complies with Essentials Requirements Matrix of MDD 93/42/EEC, amended by 2007/47/CE
System Includes:
1 LED Headlight with Rear Cranial Support "RCS" Headband
1 Power Pack Holster with Intensity Control
2 Rechargeable Standard Batteries
1 Extended Life Battery
1 Dual Bay Battery Charger
1 Padded Carrying Bag with Shoulder Strap
Ordering Information:
LLS-LLX-K: Complete LED Headlight System with Dual Bay Charger, RCS Headband
LLS-LLX-SB-K: Complete LED Headlight System with Dual Bay Charger, SPORT band
LLS-LLX-CH-K: Complete LED Headlight System with Dual Bay Charger, with Classic Headband
LLS-3736: Replacement Single Bay Charger
LLS-3736-2: Dual Bay Charger
LLS-2054HE: CUDA Surgical Encrypted Holster
(For International ordering please specify power cord.)
---
LLS-4700 Battery Operated Headlight for Surgery
The LED 4700 is a game-changer, and we take pride in offering an economically efficient model that doesn't compromise on quality. You have the freedom to choose from a range of options, allowing you to customize the headlight to suit your precise requirements. With this cutting-edge innovation, we empower you to fine-tune the lighting experience to match your unique needs like never before. Experience the brilliance of the LED 4700 and elevate your lighting solutions to new heights.
Advanced LED technology for exceptional brightness
Light Intensity: 70,000 Lux (measured at a 16in/40 cm standard working distance)
Lightweight and ergonomic design for maximum comfort
Premium Batteries built with a run time of 3hours,15 minutes at full intensity, 6.5 hours at half intensity
Specialized Neoprene Wrap that is absorbent, breathable and easy to clean
Additional Specs:
Color Temperature: 4,500° K for accurate color
representation of tissue
Typical LED life: > 50,000 hours
Variable intensity control: 0 to 70,000 LUX (measured at
a16 in/40 cm standard working distance)
Battery Recharge time 3.5 hours
3 year warranty for the LED headlight,1 year for the
batteries
Built in audible warning when battery charge is low
System includes:
10 watt Bright LED Headlight with choice of a Hard Headband or Soft Headband
Battery Pack with two Standard Rechargeable Batteries
Single Bay or a Dual Bay Battery Charger Option
Reusable, autoclavable Joysticks for positioning light spot
Carrying Bag for storage
See the Difference with Our Headlight! Compare, Choose, and Experience True Distinction!
Our Headlight's Unrivaled Precision on Display – The Steak's Perfection Showcased Like Never Before!
Competitor light spot on the left, CUDA Surgical LLS-4700's Light Spot on the right
Which light spot do you choose for clarity for accurate tissue representation?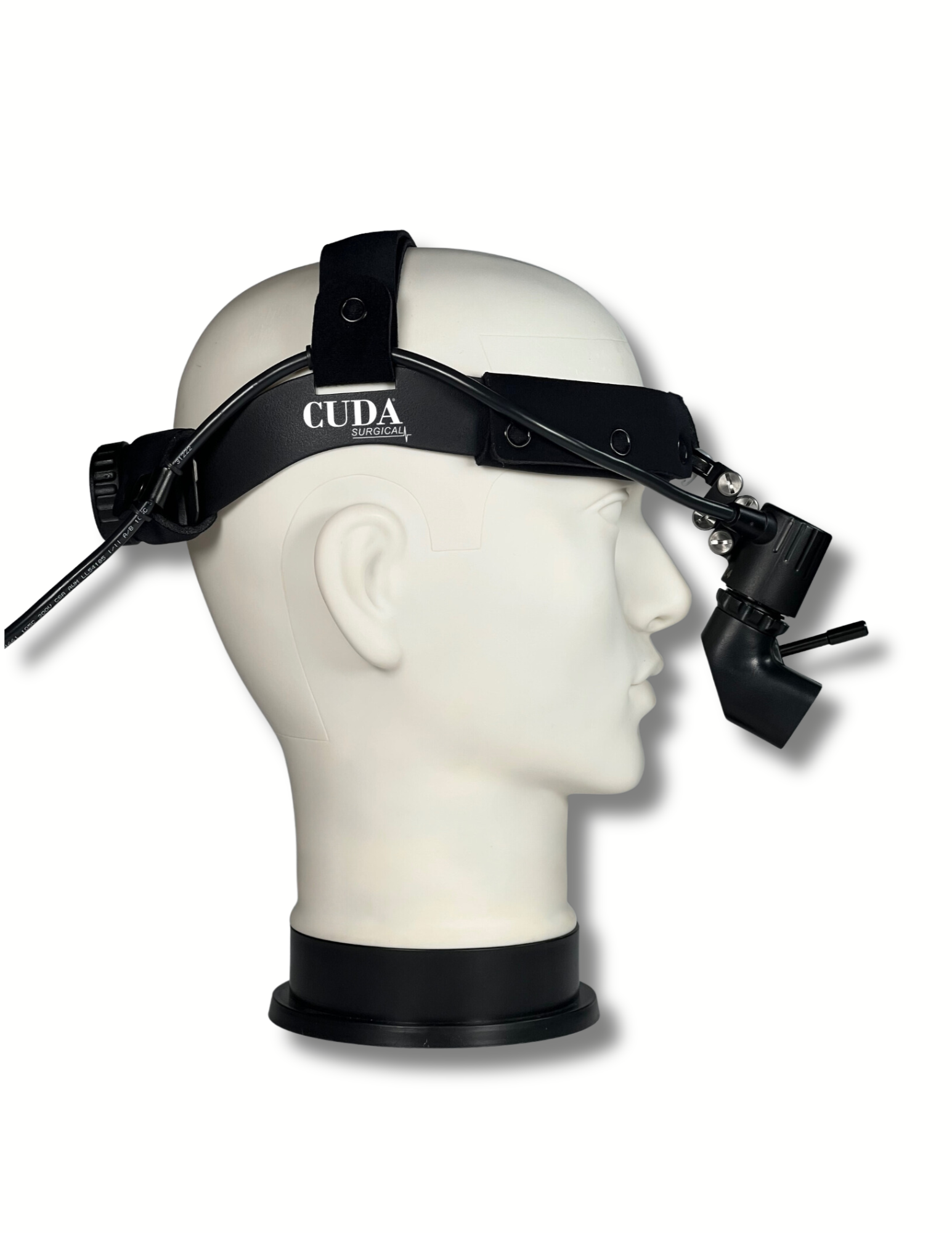 Receive special pricing if you're a resident.
---
LLS-5500 Wireless LED Headlight
CUDA Surgical's LLS-5500 Wireless LED Headlight offers the ability to be untethered from a light source or remote battery pack while providing bright, white light with a uniform spot. The lightweight RCS headband provides comfort and stability where a wireless headlight is preferred.
No external wires or batteries
30,000 lux output at 16"/ 40cm distance with a bright, clean, uniform spot
20-110mm spot variability at 16"/ 40cm working distance
Variable output switch on side of headband to set different light outputs
4 hour battery life for fully charged battery at maximum output
Battery life doubles when used at 50% output
New headband design distributes weight evenly for maximum comfort
Accessible battery on the headband is quick and easy to change
Low-battery indicator clearly visible on side of headband
4-5 hour recharge time for batteries
Specifications 10w LED Headlight
Variable Module Spot 20mm-110mm @16"/ 40cm
Side mounted variable intensity control: 0-30,000 Lux at 16"/ 40cm working distance
Rear Cranial Support Headband for added comfort
Headband with battery weight 15oz/ 437grams
Battery weight 3.7 oz/ 106g
Battery life 4 hours at full intensity and doubles at half output (power)
Battery Recharge Time – 4-5 hrs
Color Temperature 4,500K typ.
Color Rendition Index (CRI): 75
Typical LED life: >50,000 hours
Warranty Two (2) years on LED Headlight and one (1) year on Batteries
Classification: FDA Class 1 Device Listing D125713
System Includes
1 LED headlight with Rear Cranial Support "RCS" headband
Side mounted battery holster and attenuator
2 Rechargeable batteries
1 single bay charger
1 padded carrying bag with shoulder strap
Disposable Joysticks for positioning module
Ordering Information
LLS-5500-KIT: LED Battery Operated Headlight System includes charger and two batteries with International adaptors.
LLS-1821J: Replacement Battery for LED 5500
LLS-1821J-C: LED 5500 battery charger
SYC0026: Black Module Hinge Extension to allow for loupes