Light Sources
CUDA Max 300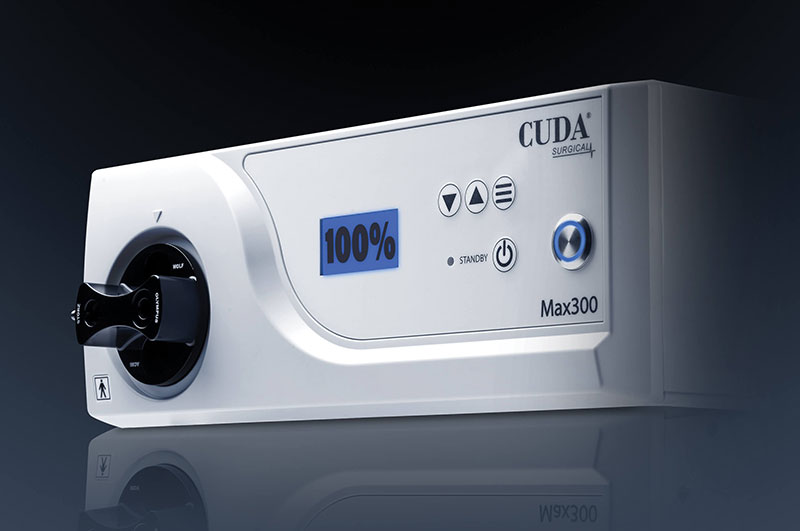 Our Brightest Performer
Providing quality headlight systems to surgeons for more than two decades, CUDA Surgical is proud to introduce the Max300 Xenon light source. A product of our vast experience, and continuous research and development e_orts in Xenon lighting, the Max300 o_ers superior performance by integrating our most recent technological advancements into the most robust, user friendly, and e_cient Xenon light source available today.
285,000 lux at 16 inches/40cm working distance; The brightest
and newest 300W Xenon light source available
Innovative Optical Train Design; Improved light path
design for the most e_cient light transmission possible
Pro-Rated 1000 Hour Lamp Life
Upgraded parabolic lamp design; optimum performance
of the lamp over a longer period of time backed by our
1000 hour warranty
5600° K color temperature for natural, accurate color rendition
of tissue. CRI (Color Render Index) of 97+
Advanced Dual Fan Cooling System; runs quiet and cool
extending the life of the unit
State of the art Xenon technology; not decades old design
System Highlights
When paired with a CUDA headlight, light is evenly distributed through the light spot
with no hot center or distracting halo
Intuitive, easy to use touchpad interface
Digital display of light output and total running hours
Stand-by mode leaves light source ready to use with no distracting light leakage
Service messages provide for quick maintenance; resettable lamp life meter on back
Automatic shutter closes when _ber optic cable is removed for enhanced safety
Easy lamp replacement. No tools needed unlike other systems on the market
Four port turret featuring ACMI, Wolf, Olympus and Storz connections for maximum flexibility
Elite 1000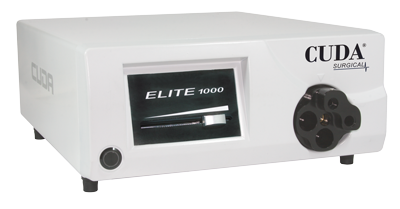 Our Elite 1000 model offers exceptional bright, white illumination required for surgical procedures. Standard to this model is a 1,000 hour lamp, lamp life hour meter on the rear panel and 5,600K color temperature.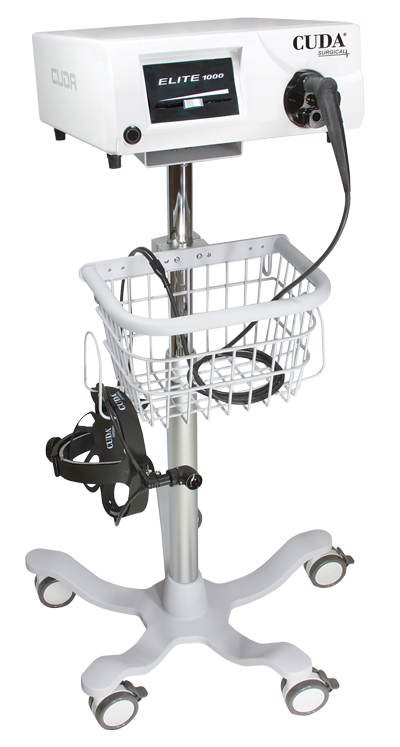 New Ceramic body elliptical lamp
1,000 hour lamp
Precise Lamp Alignment System
Dual Fan Cooling System
Manual Intensity Slide
Xenon automatically enters standby when cable is removed from active port
Whisper Quiet
High quality performance
[su_spoiler title="
Specifications
"]

Light Output 225,000 Lux measured at 16″ (40cm)
Variable light Spot 20 -110mm measured at 16″ (40cm)
Front Panel Controls On/Off Switch, Attenuator Control, Turret
Lamp Type Ceramic Body Elliptical Lamp
Lamp Warranty 1,000 Hours
Weight 10.0 kg (22 lbs)
Power Consumption 450 Watts
Dimensions 338mm (13.3″) W x 155mm (6.1″) H x 457mm (18″) D
Lamp Color Temperature 5,600K
Lamp Power Rating 300 Watts
Input Voltage Range 100 – 120 VAC 50 /60Hz, 220–240VAC 50Hz
Regulatory UL60601, EN 60601-1, EN 60601-1-2, CAN/CS C22.2, No 601.1-M90, CE
Equipment Class BF-TYPE
[/su_spoiler]
[su_spoiler title="
Ordering Information
"]

ELITE1000-K: 300 Watt Xenon light source, 4 Port Turret
DRH-110B-ESG: CUDA ELITE "RCS" Headband & 110MM variable spot module, 3.5MM Molded SureGrip black bifurcated cable
SYC0070T: Floorstand For CUDA light sources
SYC0300: Replacement Lamp Module for ELITE1000
(For International use replace -K with required power cord plug)
[/su_spoiler]